Remember in January where I said I was going to be SO productive this year made a

New Year's Resolution

to

do a 30-day challenge every month? And then...I made it 6 days on the self-care challenge. I stuck with the

Social Media 12-month Challenge for two months and counting. Plus, I am still using my planner. Mostly as a place for stickers. But it's a start.
This month I'll focus on my newsletter for the social media challenge, and take on a trifecta of challenges so that I can catch up.
But Jenna, if you forget to do one challenge, how will you remember to do three? That's where the planner and stickers come in.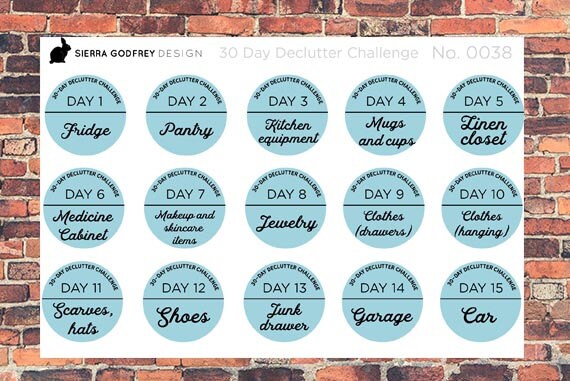 One of my girlfriends posted that she's going to do the 40 Bags in 40 Days Challenge for Lent. I've started it before, but draw a blank on where to declutter, and forget I'm supposed to. However, organizing always has me tossing stuff out to simplify. So I got some cutie-patootie stickers on etsy for the 30-day Declutter Challenge with the daily task. See where I'm going with this? Day 1 was the fridge which was much easier to do after a tossed out a bag of condiments we don't use and expired schizzle.
The third challenge is a 30-day Yoga Challenge. Just doing one pose a day, which is almost my speed because I'm only a month out from surgery. I'm hoping to get back to practicing three hours a week, eventually.
Because I'm in a planner kick, I made up a FREE printable for 40 Bags in 40 Days stickers. Keeping it cute keeps me on task.
Click here or on the image to print.
Who wants to play along?